This has become a catch-all page where I park items that might be of continued interest. Items appearing here are of interest to animal activists and do not necessarily imply endorsement of groups/actions by Other Nations.
Added in 2016:
ANOTHER MONTANA GRIZZLY IS EXECUTED: It's been only a few weeks since we got word that a Montana grizzly bear mom was killed by the state, her cubs slated for living death in zoos–scroll down a few items on this homepage and you'll find that sad story. Now comes word that another female bear has been executed –not "euthanized"–(story) for the transgressions of humans living in or near bear habitat! AGAIN, this bear is said to have a two-year rap sheet for breaking into garages, barns, and chicken coops for food–two years that humans have been allowed to keep attractants without taking measures, apparently, to bear-proof their property, until the bear is deemed "too bold" and inconvenient and is exterminated. Montana is failing grizzly bears.
MONTANA: ANOTHER GRIZZLY MOM KILLED; YEARLING CUBS WILL GO TO LIVING DEATH IN ZOO. "Problem grizzly killed" reads the headline (article here). NO–the bear was not the problem; it was unaccommodating humans and a state that fails to protect bears with laws. For TWO YEARS these bears have been lured beyond the edge of their habitat by attractants: "…chickens, ducks and rabbits…pet and livestock food…" At least this time the word "kill" is used instead of "euthanize"–I'd go even further and say this bear was *executed* for the crimes of humans who refused to act in a way that kept their wild neighbors safe. Hefty fines would force rural homeowners to eliminate bear attractants; electric fencing is proven to save bears. Montana is not adequately protecting bears from human nuisances.
Added in 2015:
SEPT. 25 is NATIONAL LOBSTER DAY, declared as such by a U.S. Senate resolution (read the resolution here). National Lobster Day is, of course, all about the "prized culinary delicacy"; about lobster fishing as an "economic engine and family tradition"; and about the 120,000,000 pounds of sentient beings caught each year–and the profit they represent. Ripped apart and boiled while still alive, it's convenient to believe that invertebrates like crustaceans don't feel pain. But science indicates otherwise–and while they don't actually scream out loud (no vocal chords), they may very well be screaming to themselves. Read more here: "Experiments reveal that crabs and lobsters feel pain." View gut-wrenching undercover footage filmed in a lobster and crab slaughterhouse and processing facility…you won't soon be wishing anyone a happy National Lobster Day.
Fantastic, CHIMP-tastic news! ALL chimpanzees, including captive–are now fully protected as 'endangered' under the Endangered Species Act! According to Save the Chimps, "This ends decades of 'split listing' that allowed captive chimps in the US to be harmed in research, entertainment, and the pet trade." Read all about it here…then go ahead and pant-hoot in celebration along with these chimps!
May 27, 2015: A BIG day for human & nonhuman animals! The New York County Supreme Court heard oral arguments in a first-of-its-kind hearing in the "Hercules and Leo" chimpanzee rights case filed by the Nonhuman Rights Project.   *TED TALK by the chimps' lawyer Steven Wise.
"Is it time that chimps are given legal rights? What about elephants, dolphins and whales?" from the Telegraph
***Post-hearing UPDATE:
"Research chimps get their day in court in New York" – NPR;
"NYC judge hears arguments on the rights of 2 chimpanzees" (includes audio reports) – CBS New York
ADDED IN 2014:
Added 10/20/14: "BLINDERS: The truth behind the tradition" New York City horse-drawn carriage rides are a tradition–from another, less just and compassionate era. View a movie trailer for the documentary "Blinders" here and visit the Coalition to Ban Horse-Drawn Carriages here. For news video of a recent accident, click here. The unholy alliance of speciesism + capitalism enables this exploitation–just say "neigh"!
Are zoos educational? Not so much, says new research.  "A newly published paper[1] in academic journal, Conservation Biology … found that, of over 2,800 children surveyed following visits to London Zoo, the majority demonstrated no positive learning outcomes at all. Indeed, many children were deemed to show not just a lack of learning, but a negative learning outcome." Full details here, at the Captive Animals' Protection Society.
Raptors Are The Solution (RATS) to poisons that kill beyond their intended victims. But no sentient being should die in such a terrible manner. Click here for a cute clay-mation video with a serious message.
ADDED EARLIER:
THE PLASTIC WHALE PROJECT: Turning advocacy into art and art into advocacy: What do you do with 9000 plastic shopping bags and classrooms full of inspired school kids? Why, create a gigantic plastic whale, of course! The beautiful creature delivers a dire warning about our throw-away consumer culture. This piece was written exclusively for Encyclopedia Britannica's Advocacy for Animals blog.
EXPOSED: USDA's secret war on wildlife – by PredatorDefense.org It's no secret to us at Other Nations that there's a war on wildlife being waged by the reviled USDA agency Wildlife Services. To add insult to huge injury, this morally-corrupt agency operates with OUR tax dollars! Here's what Predator Defense says about their new expose': "…in our new documentary, EXPOSED: USDA's Secret War on Wildlife, whistle-blowers go on the record showing Wildlife Services for what it really is—an unaccountable, out-of-control, wildlife killing machine that acts at the bidding of corporate agriculture and the hunting lobby, all with taxpayer dollars." If you care about America's wildlife, please invest 1/2 hour (we're begging you!) in watching the documentary. Be forewarned: you'll be very, very angry when it's over. For more info, see the Sacramento Bee's excellent investigative series; scroll down on this page to two items dated 5/2012.
SHAME ON INDIANA! Animal Legal Defense Fund releases report … an investigation of an Indiana "penning" facility has uncovered extreme animal suffering and provided strong evidence that wild coyotes are being illegally confined and killed by hunting dogs. …Penning …legal in at least 19 states, is the practice of using wild coyotes and foxes as "bait" to train hunting dogs…who often catch them and tear them apart.  Revisit our 12 May 2011 blog post, "Coyote and fox penning: Tell Indiana NO!" Find it here, but ignore the expired comment advisory. If you are so moved, contact Indiana's governor here. Also note that the report (linked above) has a "what you can do" page.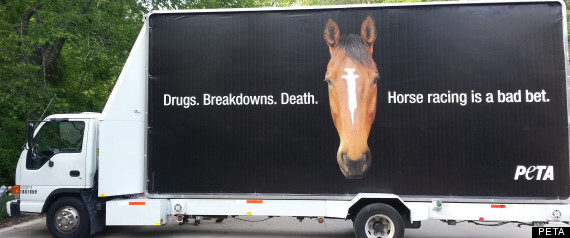 PETA takes mobile billboard to Kentucky Derby: Article here. Additional resources: Study reveals disturbing number of U.S. thoroughbreds slaughtered each year – here. Stop Over-Breeding Horses – Facebook. HSUS forms responsible breeders council – here. "Overbreeding" from The Horse; horse racing industry needs reform – from CNN. "Death and disarray at America's Racetracks," EXCELLENT resource with state-by-state stats, video, ad more…New York Times.
THE LAST 1,ooo: 87 down. 913 to go. Click here. (Hint: pictures or green squares next to names are clickable links.) Here's their new home (video)…heaven on earth.
European Union BANS animal testing of cosmetics; ban takes effect 3/11/13! "The European Coalition to End Animal Experiments has something to celebrate this winter; after years (23 to be exact) of effort, the group has succeeded in banning the use of animals in cosmetics testing in all member countries of the European Union. As of March 11, all personal care products, from high-end to drugstore brands, will be subject to the rules, which means that final products cannot be testing on animals and nor can any of a given products' ingredients" (source). For a fact sheet from HSUS on animal cosmetic testing in the U.S. (and tips on animal-friendly shopping), click.
If you live near a factory farm…better check your blood pressure. "Airborne hydrogen sulfide and strong smells from animal feeding operations can affect blood pressure in those who live nearby. Both physiologic responses to the chemical pollution and the stress of living with chronic and frequent unpleasant odors may contribute to changes seen in blood pressure following low and high pollution incidents." This will come as no surprise: "Many pig operations in North Carolina are disproportionately located in low-income communities of color, where residents already are at increased risk of these diseases." Full report is here. And check our our blog post, "All factory, no farm: And the CAFOs go rolling along" for more health and environmental fallout from industrial agriculture–including communities that have to issue "stench alerts."
7/2012: Richmond, CA goes "guardian" instead of "owner" –  "Richmond joins 18 other cities in officially recognizing the value of the term animal guardian. California cities that have made the change in the over ten years since the campaign began include Beverly Hills, West Hollywood, San Francisco, Albany, Sebastopol, and San Jose as well as the two counties of Marin County and Santa Clara County. Other cities include St. Louis, Missouri; Woodstock, New York; Bloomington, Indiana; Boulder, Colorado; Sherwood, Arkansas; Parma, Ohio. The state of Rhode Island also became a guardian community over ten years ago." Who's next? Check out the Guardian Campaign here (because words do matter) and view the "I'm a Guardian" video here.
5/2012: Sacramento Bee editorial- "Wildlife Services needs a tight leash"– an excellent follow-up to their in-depth reporting (scroll down on this page).
5/2012: Wildlife Services exposed–again – The Sacramento Bee has done a bang-up job of exposing the euphemistically-named Wildlife Services for what it is–a taxpayer-funded agency that brings horrendous suffering and death to animals by the millions. Not that WS hasn't been exposed before–even at this very same website. What we can't figure out, is why aren't animal-friendly taxpayers screaming their heads off? Read part one, "The killing agency: Wildlife Services' brutal methods leave a trail of animal death" here. Read part two, "Wildlife Services' deadly force brings environmental problems" here. Read part three, "Suggestions in changing Wildlife Services range from new practices to outright bans" here. Interactive graphic of reported statistics here. Slideshow here. Four videos (sad but not gruesome) here.
4/2012: Day-old chicks used as package filler? Recently I learned that baby chicks are actually packed up and sent through the mail. And now comes this–baby roosters (of no value to the egg industry) used as packing material! Read more here.
4/2012: Research: Youth attitudes toward hunting- Commissioned by the Hunting Heritage Trust in cooperation with the National Shooting Sports Foundation, this study included two focus groups and a nationwide phone survey. "This study examined how youth aged 8-17 perceive shooting and hunting and the role that peers have on their attitudes. There was more support for shooting than hunting among the respondents, with 52 percent having a strongly or moderately positive attitude toward shooting but only 38 percent having a positive attitude toward hunting. Forty-six percent of respondents had a strongly or moderately negative attitude toward hunting." Read more at Animals & Society Institute.
4/2012: When Horse Slaughter Comes to Town-  a 20-page, fully referenced document for use in lobbying against horse slaughter.  2nd edition, revised and updated March 21, 2011. Includes environmental impact, economic growth & community welfare, legal implications, opposition to slaughter, alternatives to slaughter, and conclusion. Find it at Tuesday's Horse.
3/2012: Study reveals disturbing number of U.S. thoroughbreds slaughtered each year – "The case study is based on data published by the U.S. government and the Jockey Club. According to the study, an amount equal to 70% of the annual Thoroughbred foal crop, on average, die at slaughter each year." Read more here.
3/4: Utah predator contest co-sponsored by Rocky Mountain Elk Foundation- from the Utah Environmental Congress: "Stewart's Market in Roosevelt, Utah is once again co-sponsoring a coyote-killing contest (actually this year they're calling it a "predator contest" and not specifying which predators, but their poster shows a picture of a coyote). The other sponsors are the Rocky Mountain Elk Foundation and Sportsmen for Fish and Wildlife…please pass this information on to anybody else you think would be concerned about this." The Rocky Mountain Elk Foundation is located in Missoula, MT. On a related issue (wolves): "More wolves will simply mean a need for more management, said David Allen, president and CEO of the Rocky Mountain Elk Foundation, a nationwide group with 185,000 members. To keep wolf populations controlled, he said, states will have to hold hunts, shoot wolves from the air and gas their dens….Natural balance is a Walt Disney movie, he said. It isn't real." AP article by Dylan Darling.