Items appearing on this page are presented as items of interest to animal activists and do not necessarily imply endorsement of groups/actions by Other Nations.
Raptors Are The Solution (RATS) to poisons that kill beyond their intended victims. But no sentient being should die in such a terrible manner. Click here for a cute clay-mation video with a serious message.
2013's worst zoos for elephants…from In Defense of Animals (click for list).
For a full education on this sad topic, read the Seattle Times excellent special report, "Glamour Beasts: The dark side of elephant captivity." Find it here–and don't miss the 8-1/2 minute video on that page, narrated by the investigative reporter who produced the series. (He's interviewed on TV here; a zoo official is interviewed here regarding her zoo's elephant policy.) Remember that in addition to what zoo elephants endure, circus elephants also endure long hours confined in transport trailers. It's criminal.
1/8/14: Just posted on the Other Nations Facebook page - A 13-year-old boy's claymation video depicting the life and death of a factory farmed pig. It's pretty amazing–particularly the idea that clay, even though rather crudely sculpted, can evoke the emotion that it does.  Want to learn more? Visit our Factory farming/CAFOs page under "issues" in the menu bar. To change the world for the better, visit our Vegan & ethical living page.
THE PLASTIC WHALE PROJECT: Turning advocacy into art and art into advocacy: What do you do with 9000 plastic shopping bags and classrooms full of inspired school kids? Why, create a gigantic plastic whale, of course! The beautiful creature delivers a dire warning about our throw-away consumer culture. This piece was written exclusively for Encyclopedia Britannica's Advocacy for Animals blog.
If you watched "Blackfish" on CNN (official film website here)… you might still feel haunted by the plight of captive marine mammals and the trainers who are put in harm's way by a ruthless industry. A CNN panel discussion after the film included the filmmaker, a biologist, and industry supporter Jack Hanna (Columbus Zoo), who vociferously defended SeaWorld. Click here for a sane and compassionate antidote to Hanna and ALL animal exploiters (Jean-Michel Cousteau's video statement). Say thanks to CNN for airing "Blackfish" here.
EXPOSED: USDA's secret war on wildlife – by PredatorDefense.org It's no secret to us at Other Nations that there's a war on wildlife being waged by the reviled USDA agency Wildlife Services. To add insult to huge injury, this morally-corrupt agency operates with OUR tax dollars! Here's what Predator Defense says about their new expose': "…in our new documentary, EXPOSED: USDA's Secret War on Wildlife, whistle-blowers go on the record showing Wildlife Services for what it really is—an unaccountable, out-of-control, wildlife killing machine that acts at the bidding of corporate agriculture and the hunting lobby, all with taxpayer dollars." If you care about America's wildlife, please invest 1/2 hour (we're begging you!) in watching the documentary. Be forewarned: you'll be very, very angry when it's over. For more info, see the Sacramento Bee's excellent investigative series; scroll down on this page to two items dated 5/2012.
From the "Tell me it ain't so" department: "Syrian bears Giza, Zuzu and Nemo, and European brown bears Tutter and Nanook – are muzzled and led out on leashes for the performances. In an unnatural and demeaning display these intelligent and mighty animals are forced to walk on their hind legs, do handstands, dance, balance on a ball, ride a bicycle and a motorcycle. After their sad outing they are led back to the 24-foot long trailer and caged again."  (Click for photo credit.) No, this isn't happening in some unenlightened, foreign backwater–it's happening right here, in our own unenlightened U.S. of A.! Visit Animal Defenders International for "Unbearable–hell on wheels for bears touring the U.S." Watch a 2-minute Vimeo production that will leave you anguished and angry (where have you seen that psychotic pacing in the cage before…or at least read about it?!?) Visit our circus animal exploitation page (under "issues" in the menu bar) for more–if this isn't depressing enough. Argh!!!
SHAME ON INDIANA! Animal Legal Defense Fund releases report … an investigation of an Indiana "penning" facility has uncovered extreme animal suffering and provided strong evidence that wild coyotes are being illegally confined and killed by hunting dogs. …Penning …legal in at least 19 states, is the practice of using wild coyotes and foxes as "bait" to train hunting dogs…who often catch them and tear them apart.  Revisit our 12 May 2011 blog post, "Coyote and fox penning: Tell Indiana NO!" Find it here, but ignore the expired comment advisory. If you are so moved, contact Indiana's governor here. Also note that the report (linked above) has a "what you can do" page.
Jump on the "Free Mali" express: You'll be joining Paul McCartney and Morrissey, among others. News item here. Visit FreeMali.com and watch a one-minute video as the captive elephant tries to find relief from her painful feet and legs. "Transferred from Sri Lanka to the Manila Zoo when she was just a baby, Mali has lived a life of deprivation since 1977." Also, find Free Mali on Facebook. Sanctuary awaits…will Mali live long enough to find it?
TESTING COSMETICS ON ANIMALS – BANNED IN INDIA! India becomes the first country in southeast Asia to end the practice…read more here. This comes on the heels of an EU ban that called into question continued testing in the U.S. Updated fact sheet on animal testing for cosmetics in the U.S. here.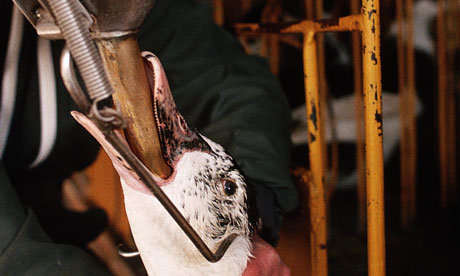 UNDERCOVER WITH MERCY FOR ANIMALS: "Animal torture is just a click away at Amazon.com" Footage from "the country's largest foie gras producer…reveals the systematic abuse of animals whose diseased livers are sold on Amazon." The undercover video is here; be prepared to click the stop button if you prefer to read the rest of the page first. Scroll down to learn which enlightened countries (and one U.S. state) have banned the force-feeding of animals to produce foie gras, and which major retailers refuse to sell it. More: StopForceFeeding.com; "The Foie Gras Assembly Line" from Farm Sanctuary; "Kate Winslet exposes foie gras cruelty" on YouTube (2:18). Guardian photo; story here: "French outrage as German food fair bans foie gras."
FANTASTIC VIDEO: WOMAN SAVES 200 SLOTHS!  "One woman's efforts to save homeless sloths has landed her with hundreds of the cuddly forest dwellers, leading her to become "slothified," a word she's coined that means "overwhelmed by sloth." Article and video here. Sloth habitat is being destroyed for…livestock grazing. Go vegan, save a sloth?!? Deforestation also contributes to climate change.
Rampant antibiotic use in industrial agriculture, environmental destruction, and off-the-scale animal abuse–welcome to our "food" supply! "Mysterious poop foam causes explosions on hog farms," from Mother Jones. More from this author: "Hogwash: "Big Ag's Ban on Caging Pregnant Pigs Is Just For Show," here. The agony of gestation crates: It's going to be very hard "to wean the meat industry from even its most vicious practices."
From Predator Defense: This is an image of one of the five billboards we're having installed on highways approaching the entrances to Yellowstone National Park, starting in June. They will greet tourists visiting the park via Montana, Wyoming and Idaho and are designed to get them to wake up to the desperate plight of wolves in America. 

Dog saves woman, woman saves dog, a story about loyalty between friends… here. Includes video of Cain, the pit bull who's now called a hero.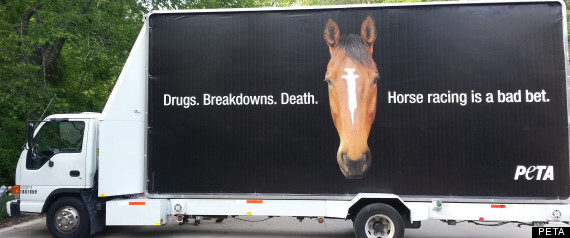 PETA takes mobile billboard to Kentucky Derby: Article here. Additional resources: Study reveals disturbing number of U.S. thoroughbreds slaughtered each year – here. Stop Over-Breeding Horses – Facebook. HSUS forms responsible breeders council – here. "Overbreeding" from The Horse; horse racing industry needs reform – from CNN. "Death and disarray at America's Racetracks," EXCELLENT resource with state-by-state stats, video, ad more…New York Times.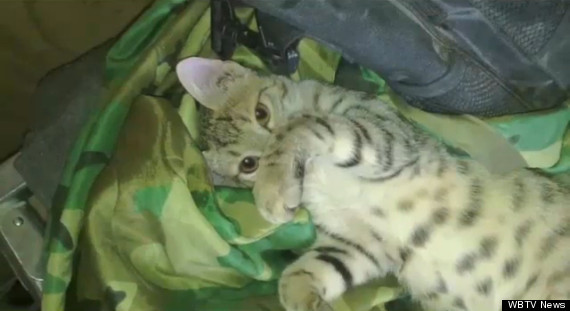 "He pulled me out of one of my darkest times so I had to pull him out of one of his darkest places."  Soldier saves cat. Cat saves soldier. Soldier refuses to leave cat behind. A lovely story of compassion and karma.
THE LAST 1,ooo: 87 down. 913 to go. Click here. (Hint: pictures or green squares next to names are clickable links.) Here's their new home (video)…heaven on earth.
European Union BANS animal testing of cosmetics; ban takes effect 3/11/13! "The European Coalition to End Animal Experiments has something to celebrate this winter; after years (23 to be exact) of effort, the group has succeeded in banning the use of animals in cosmetics testing in all member countries of the European Union. As of March 11, all personal care products, from high-end to drugstore brands, will be subject to the rules, which means that final products cannot be testing on animals and nor can any of a given products' ingredients" (source). For a fact sheet from HSUS on animal cosmetic testing in the U.S. (and tips on animal-friendly shopping), click.
Congress holds military accountable: With the recent signing of the National Defense Authorization Act, Congress has taken its strongest stand ever, directing the military to replace the use of animals in combat medical training. The Dept. of Defense kills more than 7500 animals per year in such battlefield training courses. Learn more here. Also, see our blog post from last April, "The Men Who Prune Goats." Yes, prune–and yes, it's as bad as it sounds.
If you live near a factory farm…better check your blood pressure. "Airborne hydrogen sulfide and strong smells from animal feeding operations can affect blood pressure in those who live nearby. Both physiologic responses to the chemical pollution and the stress of living with chronic and frequent unpleasant odors may contribute to changes seen in blood pressure following low and high pollution incidents." This will come as no surprise: "Many pig operations in North Carolina are disproportionately located in low-income communities of color, where residents already are at increased risk of these diseases." Full report is here. And check our our blog post, "All factory, no farm: And the CAFOs go rolling along" for more health and environmental fallout from industrial agriculture–including communities that have to issue "stench alerts."
Bacon lovers are complicit:  An undercover investigation at Wyoming Premium Farms (a Tyson supplier) revealed yet more horrific treatment (really, are we surprised?) of factory farmed pigs and piglets. Now, nine cruelty charges have been brought against employees. Read the full story at Huffington Post; view the undercover video–if you dare. Yet again the factory farming industry calls the acts of abuse "aberrations"–but factory farming itself (not to mention eating sentient beings) is aberrant behavior passing itself off as normal.
NIH retires 100+ chimps from laboratory research suffering!  "More than 100 chimpanzees that (sic) have lived virtually their entire lives in scientific laboratories will be sent to retire at a national sanctuary called Chimp Haven, the National Institutes of Health said Tuesday. …The 113 chimps currently live at the New Iberia Research Center at the University of Louisiana at Lafayette, where they've been used to research diseases and test and develop medicine. Most of them have never walked on grass or seen the sky without bars." More at NBC News.com, where you can view a nine-minute video on Ken and Rosie, two long-time lab subjects for whom Jane Goodall appears on camera as an advocate. Visit Chimp Haven.
Shocking photos of bird slaughter in Lebanon – where "birds are shot indiscriminately in there (sic) thousands. As Lebanon is at the cross roads between Europe, Asia and Africa, many of the birds are killed while migrating to and from their breeding grounds." Article and photos are here. May the Lebanon Eco Movement find the strength and resources to fight and reverse this terrible squandering of avian life.
Look who's bragging about thwarting wild horse advocacy…Safari Club International. Yes, the same SCI that champions toxic lead ammunition and keeps record books of hunted "trophies." E.g., see how to measure horns (rhinos, wildbeest), tusks (elephants, hippos), antlers (elk, caribou, reindeer), and skulls (carnivores) and so on. SCI joined the federal Bureau of Land Management in a lawsuit brought by In Defense of Animals, which claimed that wild horse management violated federal law. Details are here. Watch the video of the so-called "gather"; at about the 2:20 mark, the helicopter pilot pushes a lagging wild horse along with the chopper's landing skid! Our taxpayer dollars at work.

Traps bite: The U.S. Sportsmen's Alliance– "defenders" of trapping, hunting, and fishing–has named a Missoula-area activist group to its "America's Top 10 Threats to Trapping." According to the "Sportsmen's Daily," Footloose Montana "works to oppose wolf trapping and the management of these large predators in Montana while other wildlife species, like elk, dwindle in numbers at the hands, or paws, of wolves. Also works to end trapping on public lands." To see who comes in at numbers one through nine, click here.
10/5/12: Sure, we'd love for all farmed animal exploitation and suffering to end–yesterday!!! That would require a whole bunch of people going vegan overnight, and we're pretty sure that ain't gonna happen. Here's research that predicted the popularity of the Meatless Monday campaign–and the incremental approach. See what you think. Quote: "This notion – that we can achieve more through gradual change than by seeking overnight success – applies to almost all forms of animal advocacy."
Pit bull heroics: Pit bull saves unconscious woman from oncoming train; dog suffers severe trauma but survives. Video here. Pit bull extra: Earlier this year, Ohio rightfully removed pit bulls from its "vicious dogs" list and now defines a dangerous dog based on behavior, not breed.  To learn more about why breed specific legislation (BSL) doesn't work, click here.
As if a slaughterhouse could be anything but inhumane! Compassion Over Killing (we love this group) has once again delivered the goods with undercover video on the sickening abuse of animals by corporate exploiters. Irony alert: The perp, a California slaughterhouse, supplies meat to the US Dept. of Agriculture's National School Lunch Program and–here's where it gets thick–the USDA oversees and provides inspectors at said slaughterhouse which, in the aftermath of the video release, it has shut down. Be prepared to stop the video (which starts automatically) if you prefer to simply read the text at COK's report, which provides numerous links to major media outlets. However, anyone who eats beef and drinks cow's milk should watch the video to understand the main ingredient in these food products: Saturated misery. Related item at our blog. 
Indiana's Snapperfest bites…the dust! We wrote about it last year in "Snapperfest -or- Hoosiers gone wild (and stupid)" (at our blog). "The Indiana Department of Natural Resources (DNR) has announced that the abuse of turtles at the annual Ohio County event known as "Snapperfest," where "contestants" demonstrate their prowess by pulling the heads of live turtles far outside of their shells, will not take place this summer." Animal Legal Defense Fund and Best Friends Animal Society led the charge against turtle torture. Read the WISH-TV report and rejoice.
Another great reason to switch from cow's milk to delicious, healthful plant milk: "While their mothers are likely indoors hooked up to computerized milking machines pumping their mammary gland secretions for profit, calves just days old…are snatched from their mothers and penned outside in the hot summer sun, dying in record levels of heat exhaustion, dehydration and perhaps malnourishment. That was the story that hit the Milwaukee Journal Sentinel the other day." Visit Free From Harm for story details. A livestock industry report states, "All cases involve dairy calves between 2 to 7 days of age that have been housed in outdoor calf hutches with no shade." Just 2 to 7 days old–imagine the emotional trauma for mother and child. A serving of unhealthy, factory farmed milk is never worth THAT!
7/2012: Dolphin carries dead baby's body out to sea -  "the scene raises the question of whether dolphins are aware of their own mortality, which has long been debated by researchers. Researchers have observed, however, that dolphins do mourn and grieve for their dead. This is just the latest account of a dolphin expressing compassion. In April, three men claimed that they were possibly saved from sharks by a pack of dolphins that ran them off." Full article here.
7/2012: Richmond, CA goes "guardian" instead of "owner" -  "Richmond joins 18 other cities in officially recognizing the value of the term animal guardian. California cities that have made the change in the over ten years since the campaign began include Beverly Hills, West Hollywood, San Francisco, Albany, Sebastopol, and San Jose as well as the two counties of Marin County and Santa Clara County. Other cities include St. Louis, Missouri; Woodstock, New York; Bloomington, Indiana; Boulder, Colorado; Sherwood, Arkansas; Parma, Ohio. The state of Rhode Island also became a guardian community over ten years ago." Who's next? Check out the Guardian Campaign here (because words do matter) and view the "I'm a Guardian" video here.
7/2012: Top Ten Veg-Friendly Major League Ball Parks- listed here.
The average American eats HOW many animals in a year? This might stick in your craw–check it out. The good news? The 2011 stats show a fantastic trend: In 2011, the average meat-eater caused the deaths of fewer cows, fewer pigs, and fewer chickensthan any other year going back to at least 2000, while deaths for turkeys and ducks remain at near lows (2011 stats for land animals here).
Stingrays to be slaughtered for…shoes?  "The innovative ways people come up with to exploit animals in the effort to make some cash never ceases to amaze us. This time, a new company called Rayfish is raising genetically engineered stingrays to make expensive shoes." (Source)
5/2012: Battering, Bullying, and Beyond: The Role of Gender, Power, and Control in the Link between Animal Abuse and Human Violence – "Let's examine three different relationships: women-battering and pet abuse; animal cruelty and bullying; and childhood animal cruelty and subsequent adult violent criminality." Read more about this research at HumaneSpot.org.
5/2012: Sacramento Bee editorial- "Wildlife Services needs a tight leash"- an excellent follow-up to their in-depth reporting (scroll down to 5/1 entry on this page). 5/2012: Wildlife Services exposed–again – The Sacramento Bee has done a bang-up job of exposing the euphemistically-named Wildlife Services for what it is–a taxpayer-funded agency that brings horrendous suffering and death to animals by the millions. Not that WS hasn't been exposed before–even at this very same website. What we can't figure out, is why aren't animal-friendly taxpayers screaming their heads off? Read part one, "The killing agency: Wildlife Services' brutal methods leave a trail of animal death" here. Read part two, "Wildlife Services' deadly force brings environmental problems" here. Read part three, "Suggestions in changing Wildlife Services range from new practices to outright bans" here. Interactive graphic of reported statistics here. Slideshow here. Four videos (sad but not gruesome) here.
4/2012: Day-old chicks used as package filler? Recently I learned that baby chicks are actually packed up and sent through the mail. And now comes this–baby roosters (of no value to the egg industry) used as packing material! Read more here.
4/2012: Research: Youth attitudes toward hunting- Commissioned by the Hunting Heritage Trust in cooperation with the National Shooting Sports Foundation, this study included two focus groups and a nationwide phone survey. "This study examined how youth aged 8-17 perceive shooting and hunting and the role that peers have on their attitudes. There was more support for shooting than hunting among the respondents, with 52 percent having a strongly or moderately positive attitude toward shooting but only 38 percent having a positive attitude toward hunting. Forty-six percent of respondents had a strongly or moderately negative attitude toward hunting." Read more at Animals & Society Institute.
4/2012: When Horse Slaughter Comes to Town-  a 20-page, fully referenced document for use in lobbying against horse slaughter.  2nd edition, revised and updated March 21, 2011. Includes environmental impact, economic growth & community welfare, legal implications, opposition to slaughter, alternatives to slaughter, and conclusion. Find it at Tuesday's Horse.
3/2012: Study reveals disturbing number of U.S. thoroughbreds slaughtered each year – "The case study is based on data published by the U.S. government and the Jockey Club. According to the study, an amount equal to 70% of the annual Thoroughbred foal crop, on average, die at slaughter each year." Read more here.
March 7th is National Crown Roast of Pork Day.  "…pork loin is gathered into a circle with the rib bones pointing upwards like the peaks of a crown. Usually, this contains two rib racks, or 12 ribs from one pork loin, tied together with twine. This also means "Frenching" the ribs – slightly cutting and cracking the bone so they can be molded into a crown." Serve with wine and an undercover video from Smithfield Foods hog operations. Bon appetit!
3/4: Utah predator contest co-sponsored by Rocky Mountain Elk Foundation- from the Utah Environmental Congress: "Stewart's Market in Roosevelt, Utah is once again co-sponsoring a coyote-killing contest (actually this year they're calling it a "predator contest" and not specifying which predators, but their poster shows a picture of a coyote). The other sponsors are the Rocky Mountain Elk Foundation and Sportsmen for Fish and Wildlife…please pass this information on to anybody else you think would be concerned about this." The Rocky Mountain Elk Foundation is located in Missoula, MT. On a related issue (wolves): "More wolves will simply mean a need for more management, said David Allen, president and CEO of the Rocky Mountain Elk Foundation, a nationwide group with 185,000 members. To keep wolf populations controlled, he said, states will have to hold hunts, shoot wolves from the air and gas their dens….Natural balance is a Walt Disney movie, he said. It isn't real." AP article by Dylan Darling.
80% of Americans oppose horse slaughter – "A poll conducted in January by Lake Research Partners for the American Society for the Prevention of Cruelty to Animals (ASPCA) found that 80% of Americans are strongly opposed to horse slaughter. The highly respected research group based its survey on 1,008 voters giving the results a 3% margin of error. The poll found opposition was consistent across all sectors, including horse owners." Read more at the Equine Welfare Alliance. "This newest poll should serve as a warning to politicians who have yielded to (Big Agriculture's) bullying" says EWA's Vick Tobin, "Voters are not with you on the horse slaughter issue."
Posted 2011: "If Max (Baucus, Montana's senior senator) can get us shipping permits," (said) former State Representative Ed Butcher (R-Mt.), "we'll start moving horse meat into China." If anyone was still laboring under the preposterous illusion that horse slaughter is about compassion for old and infirm horses, that statement should remove all doubt. It's about money. Read the full article here, along with opposing comments by equine veterinarian Lisa Jacobson, who also serves as the board president for the Montana Horse Sanctuary. Butcher tells the Missoula Independent, "If they're not useful, you got to get rid of them," and claims he will have to "knock a couple horses in the head" because he has too many. Odious is as odious does.  Photo from Canadians for Ethical Treatment of Food Animals. e with me."
Posted 2011: Raccoon dogs skinned alive for fake Ugg boots: "…investigators uncovered a Chinese operation that shows individuals skinning raccoon dogs alive. The fur is then sold to develop fake imitation Ugg Boots that is sold to millions around the world." Article here; embedded video screen at bottom of page with graphic content, but you'll need to scroll down to get there. What about the genuine Ugg boot? Some websites below, but first, something you should know–the definition of mulesing. Find it here. "Protest Ugg, wool, & sheep abuse," from FAUN NJ here; Uggs and sustainability here; the PETA files ("Pamela Anderson gives Uggs the boot") here; "The Cruelty of Uggs" on YouTube here; "PAWS (Princeton) takes aim at Uggs" here. Finally, a curious piece from Huffington Post wherein a teenage fashionista claims that sheep aren't killed to make sheepskin products (here). Hello?
Dame Judi Dench speaks out for animals–and against animal testing for cosmetics in laboratories. Read it here.