Please visit and "like" us on Facebook…thank you!
_______________________________________
"…there is no morally relevant difference between shooting a lion for fun or eating a steak because you enjoy it. In both cases, we have taken a life for no good reason."     ~Gary L. Francione, Animal Rights: Abolitionist Approach
________________________________________________________
WHAT'S NEW? Added 4/17/17:  Keep it vegan blog twitter account (at 'new' arrow). Scroll to bottom for inspiring videos.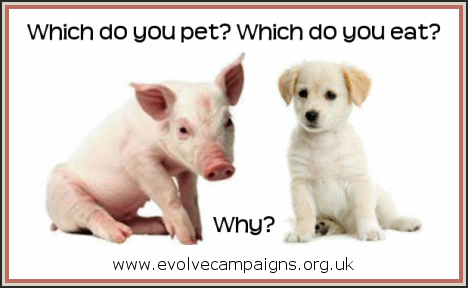 Other Nations' philosophy: going vegan isn't the only thing one can do to reduce animal suffering… but hands-down it's the most effective, single, animal-saving action. People will arrive at the place where they're comfortable with their food choices on their own terms,  but still, according to Socrates, "the unexamined life is not worth living." So we do advocate that food choices be made consciously, with full and honest information about farmed animals' exploited lives and unwanted deaths. You can find much of that info on the "Factory farming/CAFOs" page of our website (under "Issues" in the menu bar). Do what you need to do to get there…but remember that going "whole hog" will keep hogs whole…and happy! 
The term "vegan" was coined in England in 1944 by Donald Watson, co-founder of the British Vegan Society, to mean "non-dairy vegetarian"; the society also opposed the consumption of eggs. In 1951, the society extended the definition of "veganism" to mean "the doctrine that man should live without exploiting animals," and in 1960 H. Jay Dinshah started the American Vegan Society, linking veganism to the Jain concept of ahimsa, the avoidance of violence against living things.  ~Wikipedia
4/17/17: Check out this new Twitter account: Keep It Vegan!
12/28/15: "Vegan: Your first three weeks" at Vegan.com – a comprehensive article.
"Vegetarianism exploding into mainstream culture" (Hartford Courant) – also addresses veganism.
VEGAN APPS: AppAdvice – 7 apps, some free; Guide to top 10 vegan apps to make life easier – here; iPhone ingredient scanner – here; 11 must-have vegan iPhone apps –here; 8 vegan apps to download – here;
First, a few resources for Montanans…
* Missoula Vegans <3 – on Facebook
*Garden City Vegans – here
*Vegans Rock Montana — a cool website
*Missoula vegan friendly restaurants – here
*UM Kaimin article: "Vegans have options at UM" (no longer available online)
*Tandem Doughnuts – vegan and gluten free here & Clark Fork River Market, Missoula
*VegGuide.org for Montana here
*Live and Let Livingston vegan food potluck – here
*Bozeman Veg Facebook page – here   *Helena Vegan Potluck Facebook page – here
*"Sister Species: Women, animals, and social justice" – a book by Montanan Lisa Kemmerer. Find my review here, at the Other Nations blog. Same author: "Eating Earth: Environmental ethics & dietary choice, " reviewed here.

MISCELLANEOUS STUFF
"Animals and the Buddha" is a nicely-done documentary from Dharma Voices for Animals…watch it here on YouTube.
Vegetarian & Vegan Youth: website; Facebook
"Make it Vegan" (10 videos) features vegan chef and cookbook author Isa Chandra Moskowitz and her latest all-vegan recipes.
10 tips for coping with challenging non-vegans – here
"Eating animals: Addressing our most common justifications" – here
"57 reasons to try veganism" here. Enjoy!
Make Your Own Vegan Cleaning, Makeup, and other Household Products – here

The top 10 best vegan recipe websites –  This Dish is Veg
***"The inconvenience of being vegan" a popular Huff Post piece
Violet's veg'n e-comics for kids – here
DIGEST THIS: VEGANISM DEBUNKED: An info-graphic
________________________________________________________
Vegan Resources (a few of many)
*ChooseVeg.com: For the animals, for our earth, for your health here
*Vegan Outreach here
*Vegan Action here
*Vegan Peace: Striving towards peacefully sharing our Earth here (great e-cards!)
*Vegan.com: "Making vegan easy" here
*The Vegan Society (U.K.) here
*North American Vegetarian Society here
*Vegan Zombie here
*Best vegan blogs-food-recipes here
*Chic Vegan: food, beauty, health, earth, fashion, etc. here
*Carnism Awareness & Action Network (CAAN) offers a page of support links for vegans
*Vegan Cookbooks Illustrated (check out the centerfolds!) (just kidding) here
*A Well-Fed World: feeding families/saving animals. It's a great resource.
*VegGuide.org here; check vegan-friendly establishments in your area.
*Evolve! Campaigns here
*Vegan Mexican Food – Muy bien, gracias! Click here.
*Healthy. Happy. Life. 100% vegan here
*Our Hen House: Change the world for animals, here
*NEW: Black vegans rock: on twitter; website
*The Sistah Vegan Project here      *Vegans of Color blog here
*Portland Vegans of Color on Facebook    *Vegans of color on tumblr.
________________________________________________________
Faith Resources – a disorderly, incomplete list 
*All Creatures.org: Animals-Tradition, Philosophy, Religion
*Society of Ethical and Religious Vegetarians (interfaith)
*Religion and Vegetarianism (interfaith)
*Jews for animal rights (Facebook)
*Jewish Vegetarians of North America; *Judaism and Vegetarianism (blog post); NEW: A Vegan Passover
*Our Heritage: Judaism and Animals
*Animal Rights – Torah (4 min. video)
*Choose veganism, honor Judaism, and kvell
*NEW: Be vegan. Be Muslim. Be proud – Facebook; and *Why I went vegan: stories from Muslims (slideshow); and *One Arab Vegan website & relevant post
*Islamic Concern
*Christian Vegetarian Association;      *Would Jesus eat meat today?
*Catholic Concern for Animals (no policy on vegetarianism, tho recommended)
NEW: *Catholic Vegan Mom website, Facebook
*United Church of Christ official statements on animals
*Unitarian Universalist Animal Ministry; *UU's Ethical Eating
*Vegan 2000: Religious reasons for veganism
NEW: *Veganism and Hinduism
*The concepts of ahimsa or nonviolence: Jainism, Hinduism, Buddhism
*Buddhism and Vegetarianism by Norm Phelps at Advocacy for Animals
*Buddhist resources on vegetarianism and animal welfare
*Dharma Voices for Animals;  *Buddhist teachings on animals; *Shabkar.org
*Triratna Journal: Buddhism on a plate;   *Animals and the Buddha documentary
*The Great Compassion: Buddhism & Animal Rights interview with author
*Baha' i "Kindness to Animals; Baha'i Treatment of Animals, Warwick leaflet
*One Voice: Ministry in Motion; Ministry in Motion proclamation
*Seventh-Day Adventist (HSUS); *Ellen White quotes (a founder of S-DA)
*Society of Ethical and Religious Vegetarians: a great "links" page; also, "what's new" for articles like How to Encourage Christians to Become Vegan and Does God Support Factory Farms?
*Episcopalian Church; *Episcopal Network for Animal Welfare; *Faithful Vegan (a blog)
*Not one sparrow: a Christian voice for animals
*Lutheran (ELCA) official statements on animals
*Quaker concern for animals – an interview with UK founder
*Humane Society of the U.S. Faith Outreach
*"Kindness to animals and caring for the earth": selections from the sermons and writings of Latter-day Saint church leaders, here; What does Mormonism say about animal rights? blog post; Can Mormons be vegan? blogspot; Mormon vegetarian group on Facebook (sidebar also shows link to vegan Mormons; must be logged in to FB).
10/1/15: Evangelical statement: "Every Living Thing" – the statement; the video; the Facebook page.
7/10/15: "Listen to the pope: Don't cause animals to suffer or die needlessly" – L.A. Times, here
* "Scholars explore Christian perspectives on animal rights" New York Times
* "Scientists claim kosher and halal animal slaughter is 'inhumane and cruel'" A letter from 90 Polish scientists concerned about ritual slaughter; find it here.
*Lisa Kemmerer, philosopher-activist (MT State U-Billings) has written three books on religion/ethics and animals; find them here.
_______________________________________________________________
Miscellaneous
*Montana-made animal-friendly & vegan jewelry
*Vegan Junk Food cookbook: 225 sinful snacks here
*VegNews Magazine: Vegan news, food, planet, travel, buzz. A subscription makes a great gift for a vegan!
*No Meat Athlete: Runs on plants (vegetarian/vegan) here
*Vegan Pizza dot com here
*New York City Vegan Weekend (on a budget!) from Our Hen House; watch it here
*"How to go vegan" from the New York Times  1/14/13
*Real vegan children – vegan from birth and thriving! Find it here.
*Why vegans real labels, from Gentle World
*VegNet: An intentional communities network – looking for an intentional community? Looking to start one? Look here.
______________________________________________________________
OLDER STUFF
"Mind if I order the cheeseburger and other questions people ask vegans" – a book review. Find it here. 
Frequently Asked Questions: A philosopher and animal rights theorist answers FAQs about the abolition of animal exploitation at the Abolitionist Approach.
Vegans are label-readers–and that's a fact. But analyzing ingredients and ferreting out trace amounts of this or that animal-related substance should not be seen as an obstacle to (nor an excuse for not) becoming vegan. For those who want to make food and other product decisions that cause the least animal suffering, ingredients do matter. Check out this handy animal-derived ingredient list.
Bill Gates says future of meat is vegan – source: Daily Kos
Going vegan, family style: from the Denver Post.com
Excerpt from the article: "It wasn't long ago that vegan meant brown rice, lentils, salads and noodles. Vegan was like vegetarian without the dollops of fun — the cheese, the cream, the butter.
"It's different now. The supermarket aisle for vegan products is growing, and offerings taste better than ever. Publishers release new vegan cookbooks every week, containing thousands of recipes for things that require quotation marks: macaroni and "cheese," pulled "pork" sandwiches, "chicken" pot pie."
MUTILATED FOR EGG PRODUCTION–Even cage-free chickens are debeaked to prevent stress pecking in severely crowded conditions. Check out this awesome video–Baking Without Eggs. Where there's a will, there's a way.
Sinfully good and cruelty-free: Vegan recipes for Valentine's Day–here. 
" autohide="1″ rel="0″]