OTHER NATIONS 

VOICES
"…living by voices we shall never hear."
IN THIS ISSUE:
Speciesism in three uneasy pieces
The heresy of meatless Monday
VP-pick Paul Ryan's Grand Slam goal
New board game is a grand slam for kindness!
Lion is off the menu–is this progress?!?
Book: Death at Seaworld 
6 NATO countries still use animals in battlefield doctor training
Crash course on birds and windows
The tail end: Wag it!
Speciesism in three uneasy pieces – What do a zoo, a deer cull, and wolf trapping have in common? News of each appeared in the morning paper, early-morning reminders that speciesism is alive and well in Montana–and, sadly, everywhere, since humans stand to benefit from the injustice. Truth revealed: Learn why the governor's ever-present border collie didn't visit the zoo with him. Smart dog…compassionate dog. At our blog.
Meatless Monday? Duh! What were we thinking!?!   About as fast as you can say "Meatless Monday"–that's all the time it took for the U.S. Department of Agriculture to reverse its mild suggestion that agency diners go meatless one day a week to reduce their environmental impact. 'Twas a suggestion that made the livestock industry and their government lackeys very unhappy. Sorry details are at our blog.
Can politics get any uglier? Yes.
Q: What's more unsavory than politics these days? A: Politicians who enjoy killing animals. Says bow-hunter Paul Ryan, Republican pick for Vice President: "I read about Chuck Adams, the first guy to get the Super Slam, which is pretty impressive. I don't know if I'll ever be able to try but one of my goals is to get a grand slam of sheep with a bow. It would be very tough and very expensive. But I'd love to do some of those great western hunts for sheep and deer."  Deer & Deer Hunting
For the blissfully uninitiated, the aforementioned Super Slam is the wanton killing of all 28 North American big "game" species, according to the description for Adams' book. Curious about Ryan's longed-for sheep Grand Slam?
The Grand Slam Club is a prestigious hunting club reserved for hunters who document the taking of four different North American wild sheep — Rocky Mountain bighorn, desert bighorn, stone and Dall. It has been called the most prestigious hunting club in North America.   ~Anchorage Daily News article about the first woman to earn a bow-hunt Grand Slam
Let's be clear: No one political party has a lock on either animal exploitation or compassion. Political affiliation aside, there's something totally pathetic about ego-driven humans who list, kill, and check off sentient beings with a "been there, killed that" mentality. "Mitt Romney didn't score well with the hunting crowd when he admitted he only shot small animals. Now he has someone on the ticket who really fills that gap," writes the co-founder of Best Friends Animal Society at the Earth in Transition blog.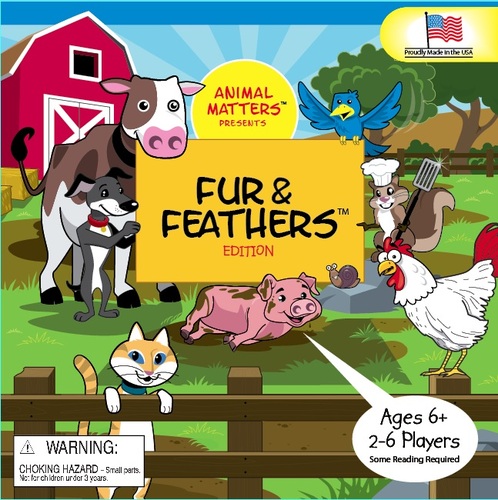 A Grand Slam for kindness…with a board game? Some people keep a tally of the animals they've killed until they believe they've "won" (see previous item). How best to counteract this warped attitude? One way is by raising compassionate children who understand that animals' lives matter. Can a roll of the die and a twirl of the spinner accomplish this? From  Animal Matters:
Fur & Feathers is NOT YOUR TYPICAL BOARD GAME! It's a fun, fact-filled game about animals and how our everyday choices can affect their lives. The object of the game is to be the first player to save one of each of the five animals. Players can do so by correctly answering animal fact questions, visiting the Cafe', visiting the Animal Shelter and adopting a pet or by the luck of the spinner at The Farm. There are plenty of ways to win the game but strategy and a little luck can help too!
We haven't seen the game for ourselves, and know only what the website tells us. But in a world where something as odious as the Grand Slam Club is considered prestigious, our vote goes to the compassionate side every time.
$160 a plate and no lion? We're talking African lion, not mountain lion–not that either cat should appear on a dinner plate or in a taxidermy mount. Crocodile, alpaca, kangaroo, and foie gras remained on the menu when a Wichita, KS restaurant offered an "exotic" meal (the event sold out). "It's a special dining experience for people," the chef explained. "For people to just try something else that they haven't had a chance to eat" (source). The restaurant was hammered with protests on social media sites over the inclusion of lion meat, which "would have come from a farm in the United States." Apparently to show his sensitive side, the chef is now "planning an all vegan event sometime in the future." A vegan meal from a chef with foie gras on his hands? No thanks!
Death at SeaWorld: Shamu and the Dark Side of Killer Whales in Captivity by author/journalist David Kirby is "a groundbreaking scientific thriller that exposes the dark side of SeaWorld, America's most beloved marine mammal park. Death at SeaWorld centers on the battle with the multimillion-dollar marine park industry over the controversial and even lethal ramifications of keeping killer whales in captivity" (source). Kirby is also the author of Animal Factory–read about it in this excellent NPR review.
Six NATO countries continue gruesome battlefield training: The Montreal Gazette reports that "(t)he Canadian military is "actively" looking for ways to end its use of animals in training battlefield doctors…The disclosure by the Department of National Defence follows the publication of a study last week in the journal Military Medicine that showed only six out of 28 NATO countries — including Canada — continue to use animals such as pigs and goats to help military medical personnel train on treating amputation injuries and other major trauma, as well as exposure to chemical attacks."  We'll confirm your feeling of dread: Yes, the U.S. is one of the six. Revisit our blog entry, "The Men Who Prune Goats" to see just how bad it gets.
Crash course on birds and windows: The window usually wins. The Fatal Light Awareness Program (FLAP) is an awesome and informative website about windows, lighted buildings, and the many other obstacles that migratory birds face. For instance, did you know that each year, an estimated 1.5 – 2 billion migratory birds are killed across North America as a direct result of human activity? That toll comes on top of the even greater toll from habitat destruction. Birds, they are a-hurtin'.
Visit FLAP and learn how to make your home safe for birds. You'll learn that one stick-on hawk silhouette isn't the answer, along with other deterrent myths.
The tail-end: WAG IT!
Mango loves Milkshake – Warning: cuteness overload! 
Wolves howling in Oregon–this is the real deal. Beautiful!