OTHER NATIONS

 

VOICES
"…living by voices we shall never hear."
IN THIS

HOLIDAY

ISSUE:
Blog updates: Northern Rockies wildlife; kids, animals, and empathy 
A fun holiday project: Raise your paw for safe trails!
No eyes? No problem…not at this fantastic cat shelter!
The wait is over: VEGAN FRUITCAKE
Progress made: The Netherlands bans mink fur farming! 
Think outside the cage on National Bird Day
The tail end: Wag it!
New at our blog: "How do you value an alpha female wolf?" When you live in what feels like a war zone–the Northern Rockies states are waging war on their own native wildlife–it's easy to forget that the act of killing doesn't rule the roost everywhere. Read it here. Also, we examine children and animals–and empathy and killing–in "Empathy override starts early with gigging, plinking." You'll find that one here.
Raise your paw for safe trails! Here's a fun holiday project for you and your companion dog or cat! And no matter where you live, you can take a happy stand against cruelty. Visit Born Free USA's "Safe Trails" web pages to learn about the dangers of trapping for both wild and companion animals. Then print out the "Raise a Paw" sign, grab your camera, pose your companion, and upload the photo to the picture gallery in support of safe, trap-free trails. Your picture will appear once the webmaster has reviewed the submissions. See you in the gallery line-up!
The Blind Cat Rescue & Sanctuary "helps blind cats see a future." I came across their website quite by accident and had a complete meltdown of the heart. Promptly ordered two of their fundraising calendars for my cat-crazy family. Located in St. Pauls, NC, this rescue operates TWO shelters–one for blind cats, and one for FELV+ and FIV+ cats. Watch a mellow, informative video about the shelter at their website or on YouTube, join them on Facebook, and enjoy the smile you'll find yourself wearing just knowing that such a place–and such compassionate people with such an amazing mission–exists.
Cooking without animals doesn't mean your dog can't lick the roasting pan! Vegan food simply bypasses any and all animal-derived ingredients. Maybe you're vegan yourself, or maybe you're cooking for one this holiday season, or maybe you're a nonvegan who wants to dip a toe into the gentle waters of the growing vegan tide. Whatever your status, check out this fantastic Pinterest board of vegan holiday recipes from our heroes at Animal Legal Defense Fund. Santa hat brownies, red onion & rosemary focaccia, toasted pumpkin seed lace cookies, Christmas tree pie, roasted garlic maple cauliflower soup, and more–including vegan fruitcake!
Duizendmaal dank (thousand times thanks) to the Netherlands! At six million mink gassed per year, the Dutch fur industry was 3rd behind only Denmark and China.
"A momentous leap forward in the protection of animals was reached in the Dutch Senate today (12/18/12): a large majority voted to ban the production of fur. The ban will come in effect on January 1st 2024. …This decision focused on mink fur production, but as the farming of foxes and chinchillas for their fur was banned in The Netherlands in the 1990s, this is in practical terms a total ban on all fur farming. As a matter of principle it is as well: the bill bans mink fur farming on ethical grounds. It argues that killing animals and infringing their welfare to make a non-essential product like fur cannot be justified." Read more here. Click on the accompanying image to visit the Dutch site Bont voor Dieren (Fur for Animals)–dedicated to the rights of all fur-bearing animals.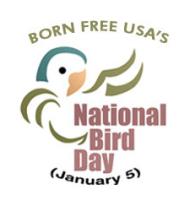 Think outside the cage! January 5, 2013 is National Bird Day, brought to us by Born Free USA and the Avian Welfare Coalition.  At this site you can learn a thing or two about birds, including captured and captive-bred exotics destined for the U.S. "pet" trade. You can play "Name That Tune" by matching bird calls to bird pictures and can also enter the 2nd annual Free Bird Photo Contest. January 31 is the deadline for submissions.

The tail end: Wag it! We wrap up our December holiday cheer newsletter by wishing you a happy and peaceful holiday season.
Jack Russell Christmas: We're just hoping that darling dog didn't come from a puppy mill, and that the milk in the glass is almond milk! Yeah, it's always something, isn't it?!?  Enjoy it here.
Dusty the Klepto Cat: You have to see it to believe it…the night vision shots are priceless.
The amazing lives of the other nations–truly a mystery and a wonder. May we learn to approach them with respect and humility. "Deep Sea Mystery Circle–A Love Story." What talented being creates this work of art? Find out here.
Henry Beston said it best: We need another and a wiser and perhaps a more mystical concept of animals. Let his words move you– view our Other Nations slide show.